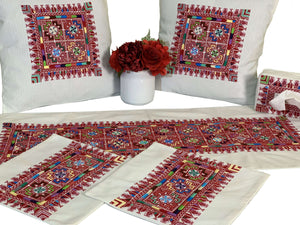 Palestinian Embroidery
---
Authentic Palestinian embroidery
These exquisite embroidery "tatreez" patterns were traditionally found on various garments and decorations sewn in Palestine decades ago. Each cloth accessory features an elegant embroidered Palestinian design accented with a bold red trim on an ivory ground, detailed with modern splashes of color. This specific set offers a wide variety of colors, making it easy to match any decor in your room.
Perfect for you, if you like to add a taste of Palestinian heritage to your favorite place. With endless options, this runner can fit a wide variety of shaped coffee tables, in addition to small dining tables, tea tables, and TV stands. Great housewarming gift for family and friends on various occasions.
Best when matched with your favorite embroidered Palestine map to enhance the elegance of your walls.  All materials, fabrics, and cotton threads are of very good quality and are carefully embroidered by Palestinian women. 
 
---
---
Sorry, there are no products in this collection.